Buyers Beware
Don't Buy a New Vehicle Until You Read This!
At Airport Chrysler Dodge Jeep RAM in Orlando, FL we take pride in providing our customers with a great selection of vehicles, the lowest possible prices and the best car buying experience we can provide. When you use our website to shop for a new vehicle, you will find a straight forward price that everyone qualifies for and we add some items to protect your investment that we do not even charge for, such as window tint, wheel locks, windshield treatment, free tire rotations, door edge guards, an insurance deductible reimbursement and a coupon book with over $1,500 in savings!
Customers come to us from all over the state and country and share with us the experience they have received at other dealerships. In an effort to save you time and aggravation, we would like to share these examples with you.
Here are some of the tricks and loopholes that other dealerships are using to get you into their showrooms just to charge you more when you arrive.
Dealer #1: The Triple the Rebate Dealer, or so they say…
This is the dealer that "proudly" advertises "TRIPLE THE REBATES!!!" But how are they getting there? First of all, compare their Dealer List price to the window sticker on the second page. Before we look at that, lets also take a look at their sample payment. The $388 they are showing, is based on their advertised sale price, which includes the rebates and incentives. In addition, the $6,952 down payment does not include, tax, tag and any applicable fees! Everyone knows not all rebates can be applied when you select the incentivized APR! Simply put, it will take far more than $6,592 to be at $388 per month on this vehicle! Now back to the MSRP…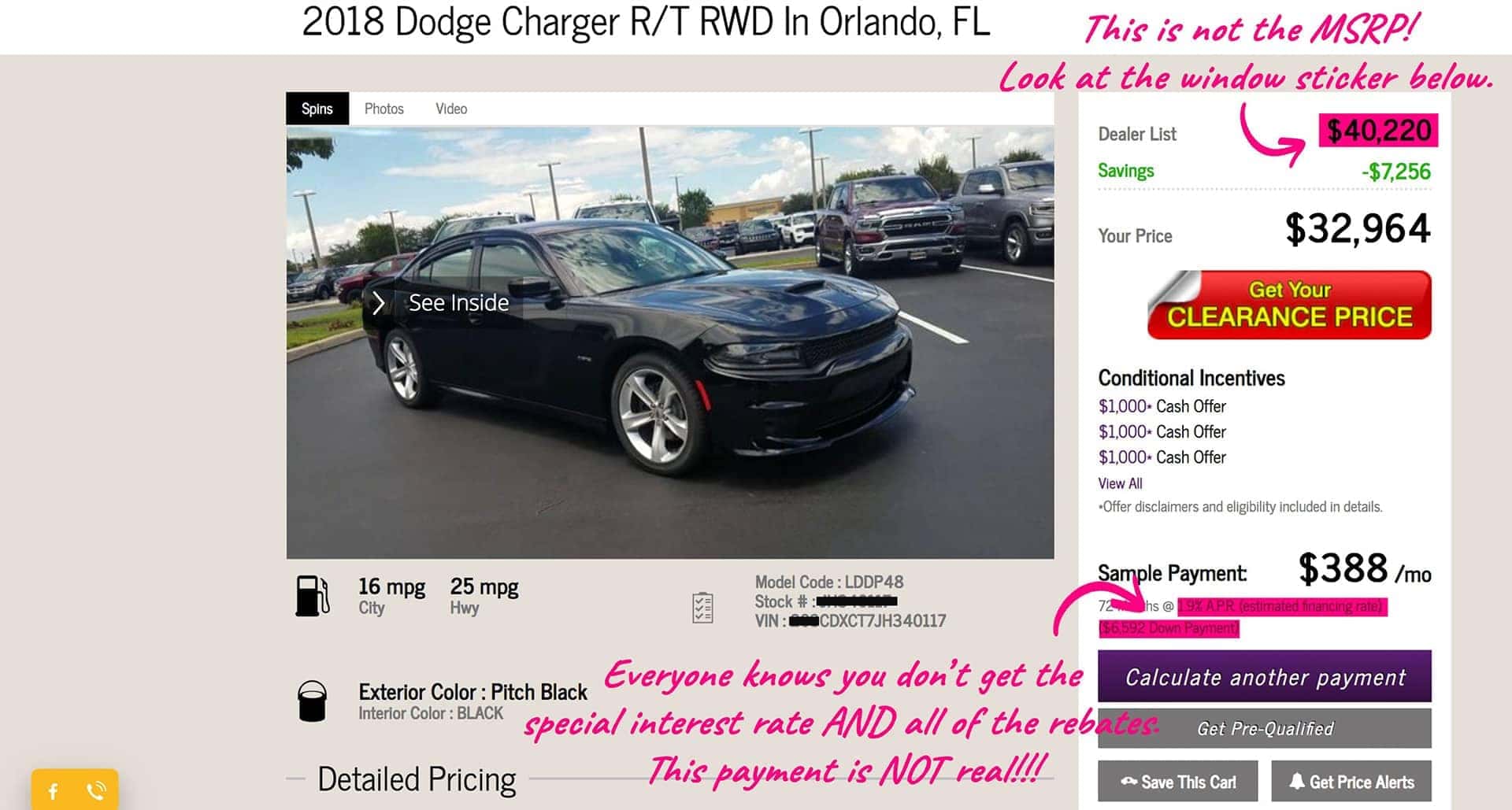 Here we have the window sticker for the Charger listed above. The "TOTAL PRICE" on the window sticker below is the actual MSRP… The $7,256 savings they are showing above is really only $5,256 because they are marking their vehicles up $2,000 for no reason justified on their website!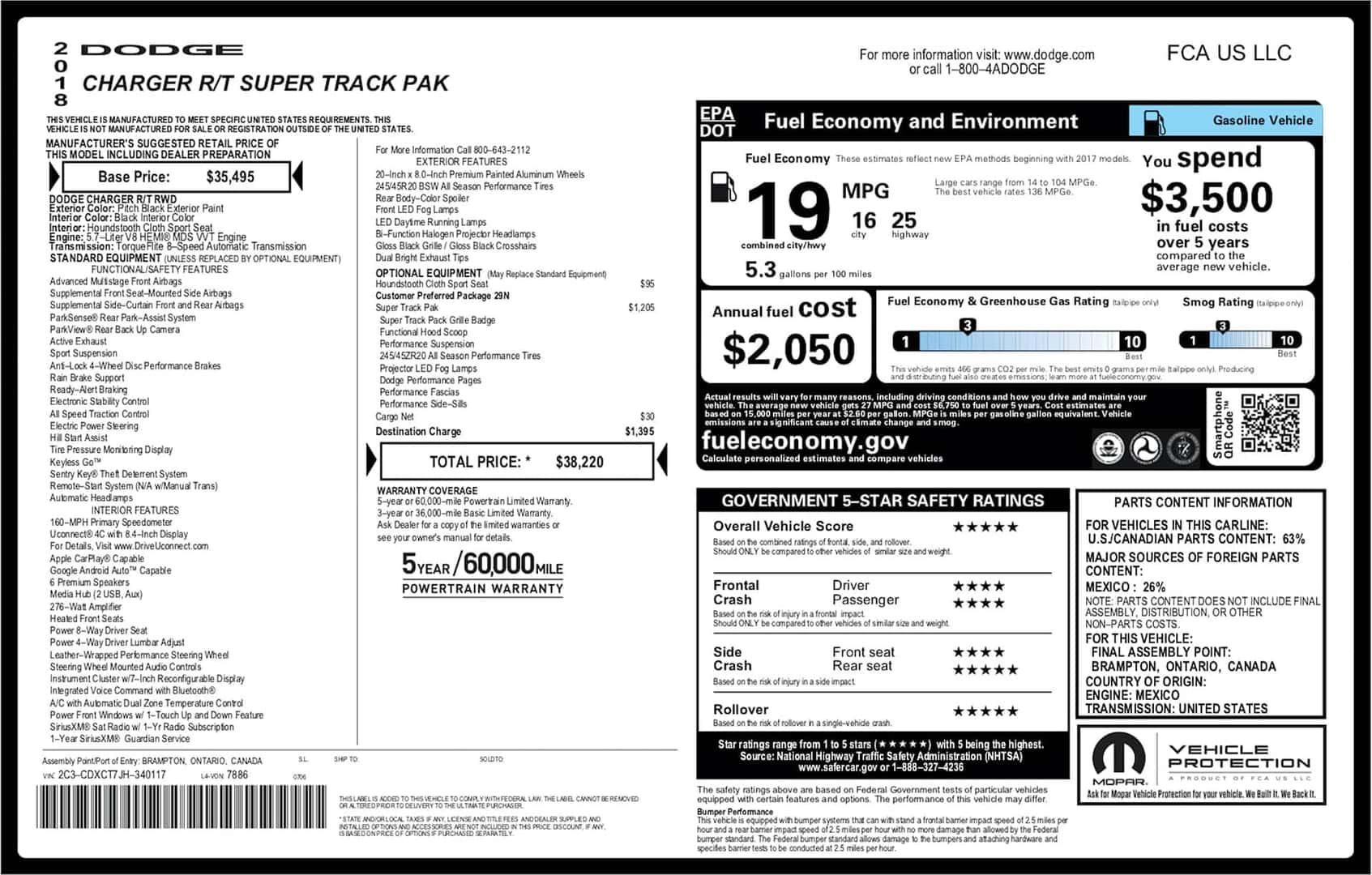 This is, by far, one of the largest disclosures we have seen on a dealer's website. Their dealer fee is separated into 2 parts to appear lower, but in total is $1,098. Right after the dealer fee, they cover themselves on their sample payment in the first image by saying offers may not be used in conjunction! Showing a payment can be helpful, but if the customer is not aware of all of the details, they are being deceived! As we read on, they refer to MSRP which they do not even show you unless you go over the window sticker, but it gets even better. They tell you to consult your dealer for actual price AND complete details! What does this mean? What can we believe on their website? It keeps going, because the vehicle shown may have optional equipment at additional cost. We finally see the standard disclosure, price and payments do not include tax, tag and documentation charges… But EMISSIONS TESTING CHARGES in Florida? Since when?!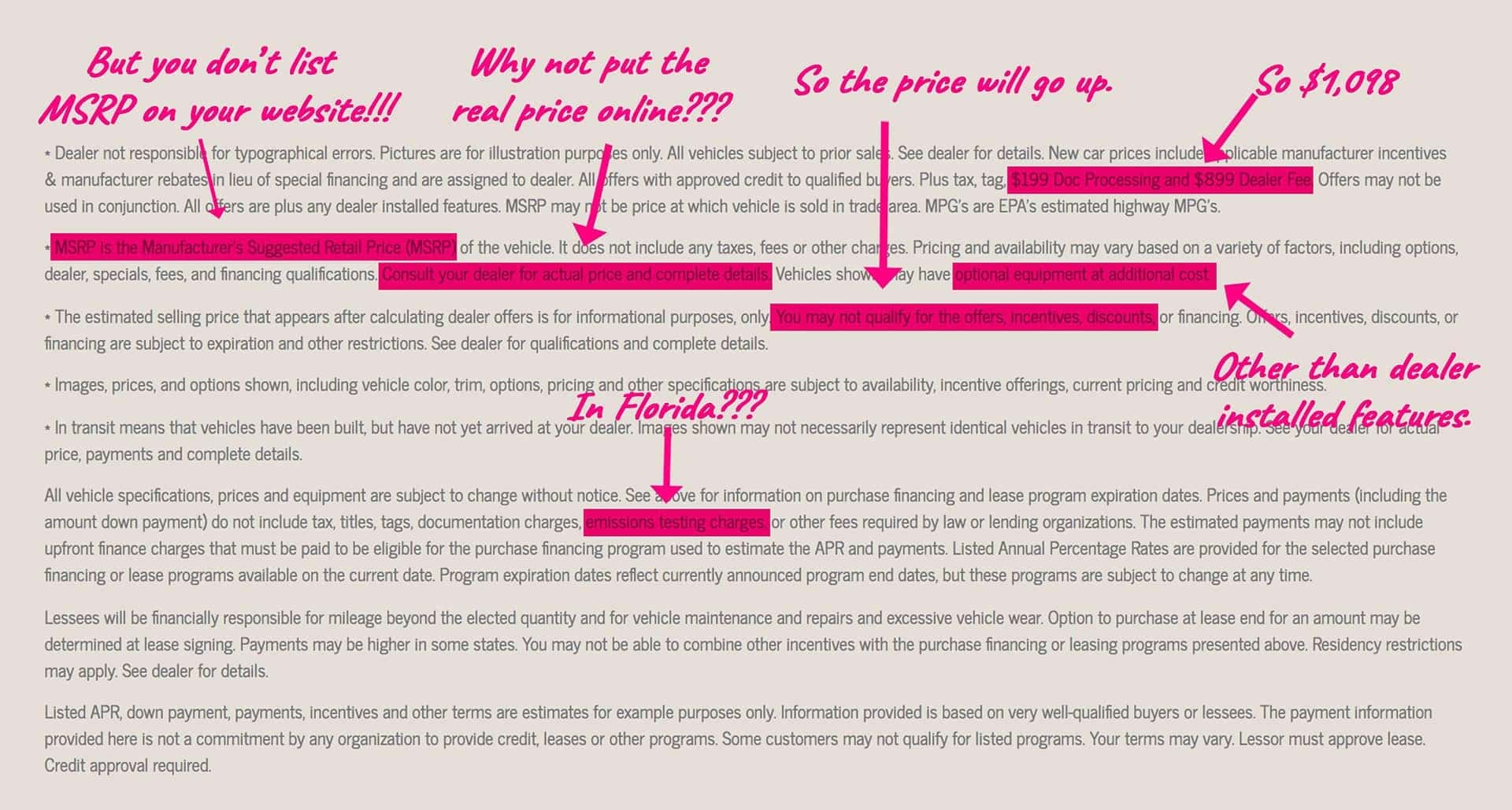 Needless to say, this dealership uses their website to get you to their dealership, just to raise the price thousands of dollars and try to show you bigger discounts that they build into their pricing. So much for Triple the Rebates. Show me a breakdown!
Dealer #2: The dealer that has been in town the longest…
Now this dealer, who has been around for a long time, should simply sell cars based on their reputation and longevity. There's no reason why they should deceive a customer looking at pricing on their website. Everything looks normal at first, showing the MSRP as the list price. We need to scroll down to the description to see how they get to $38,812.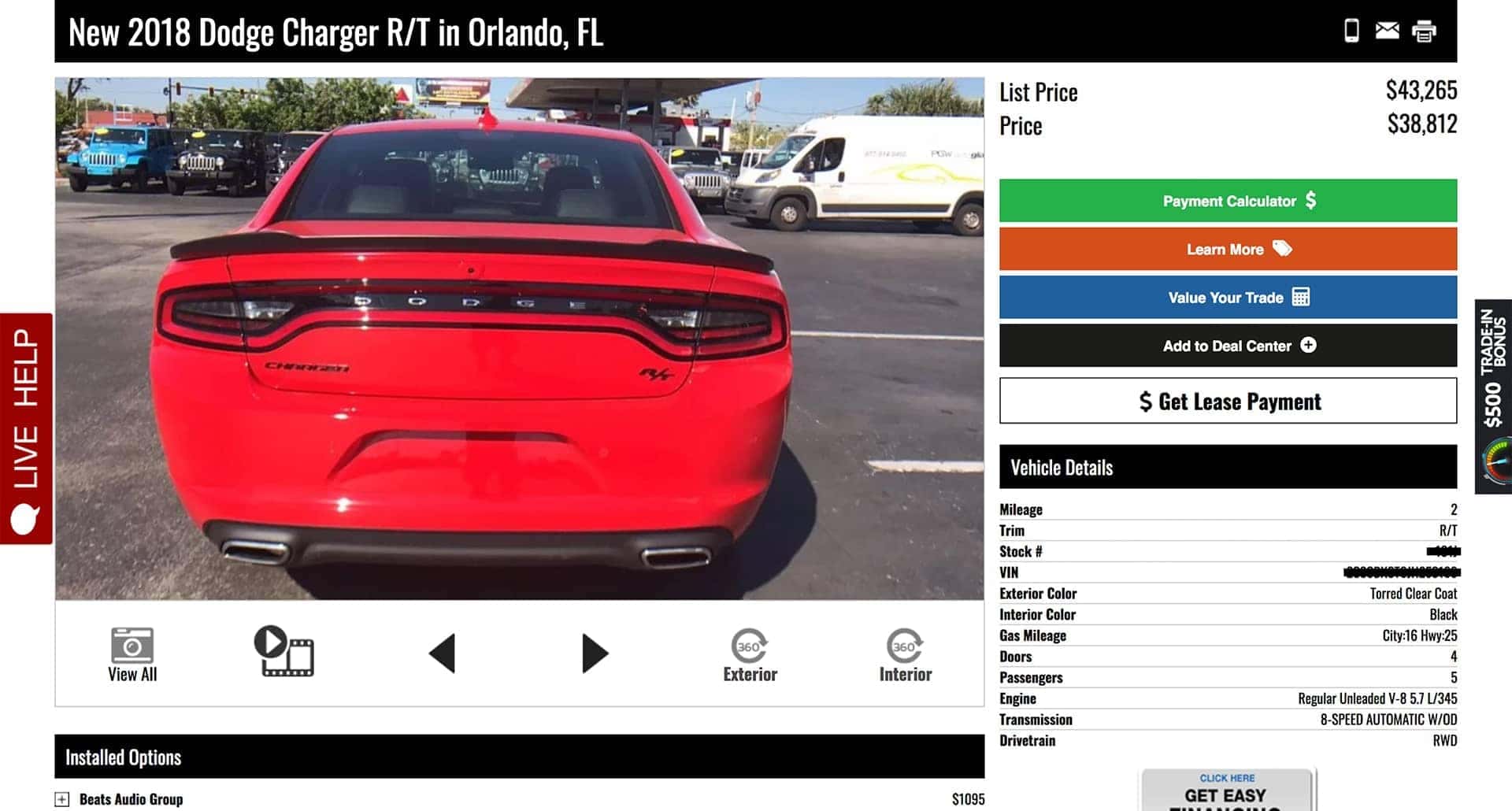 Where do we begin? Let's start with the big surprise… They are using the Lease Conquest / Lease Loyalty rebate AND the Military Program rebate to get to the price they advertise online. So, if you are not active or retired (after 20 years) Military Personnel AND currently have a leased vehicle, your price is increased $1,500 over their advertised internet price. They do not disclose any amount for dealer fees. At least the other dealers tell you they have a dealer fee of a certain amount and a documentation or electronic registration fee of a certain amount. This dealer simply states dealer fees, which gives them the ability to adjust this fee to whatever they want to charge on each individual deal. And there are those dealer installed options again. Items you are forced to pay for that you may not want to have on your vehicle.

Dealer #3: The "Biggest Dealer in Town"
They advertise an "Everyone's Price," but then immediately offer a lower price if you finance. Last we checked, a vast majority of car buyers finance their vehicles because not everyone is fortunate to have that much money they can simply write a check for. They also have a lowest price guarantee, saying they'll beat any written offer by 5%. The only reason a dealer need to offer that is if they have doubt they are not the lowest price dealership in town!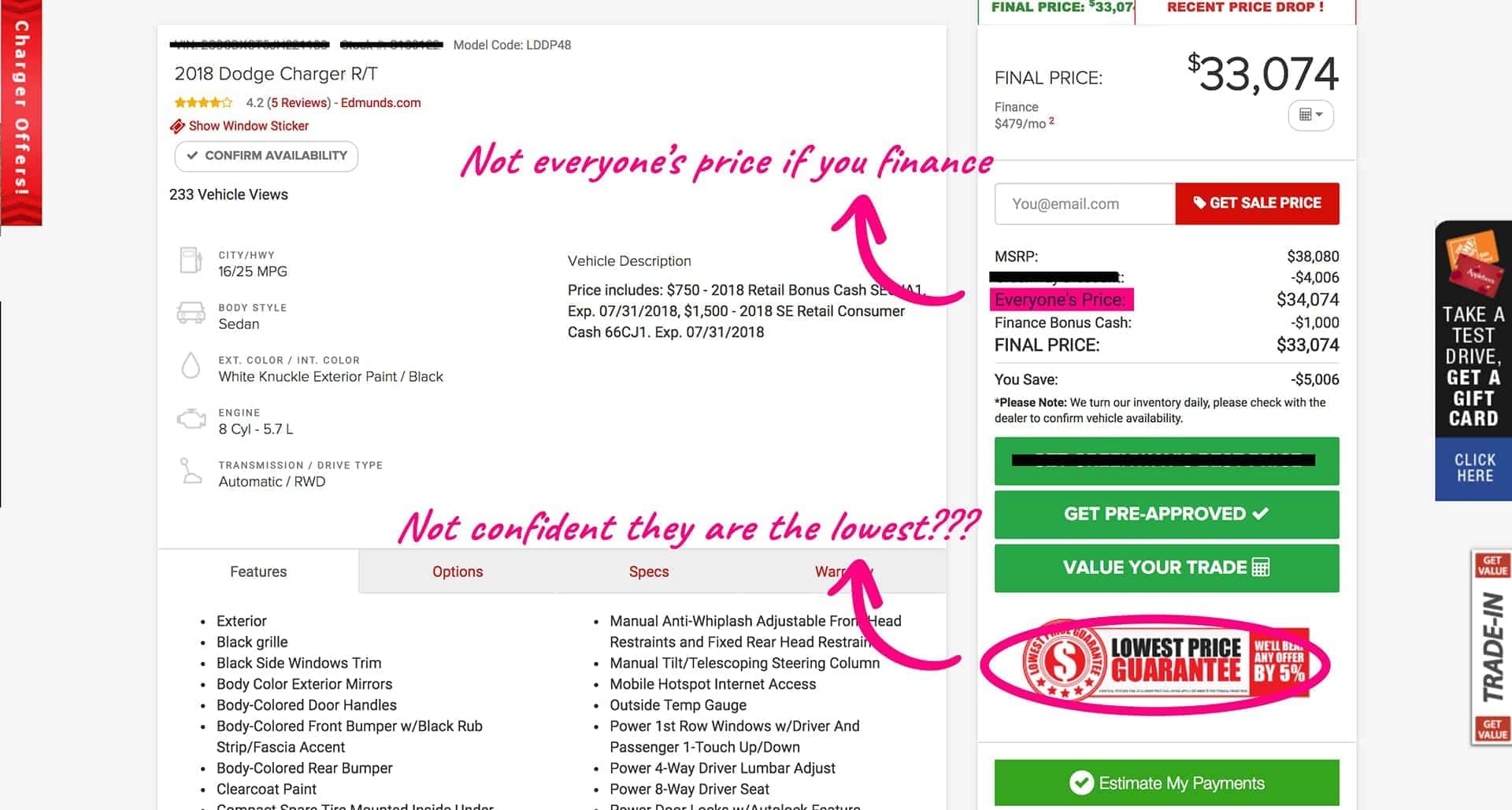 Let's take a look at their standard disclosure. While we all know every dealership will have a disclosure on their websites, there is no reason to trick customers. Above, they say there is a Finance Bonus Discount for customers that finance with them only to say the advertised price does not include finance charges. In addition to interest paid to the lender, what other charges are they adding? Their dealer fee is $999.45 in addition to a documentation charge which they do not disclose the amount of. So, their entire admin fee is in excess of $1,000!

Dealer #4: The Dealer on the "Big Corner" a.k.a. "The Taj Mahal"
This dealership simply says "Price may not include dealer-installed accessories" which translates to, Whether you want these items or not you will be paying for them. They also do not disclose what these items are and what their cost is, which allows them to adjust the price for these items on the fly as they work a deal for you. They may not even disclose the items to you while you are working with them via phone or email and then add it to the price when you arrive to finalize your paperwork.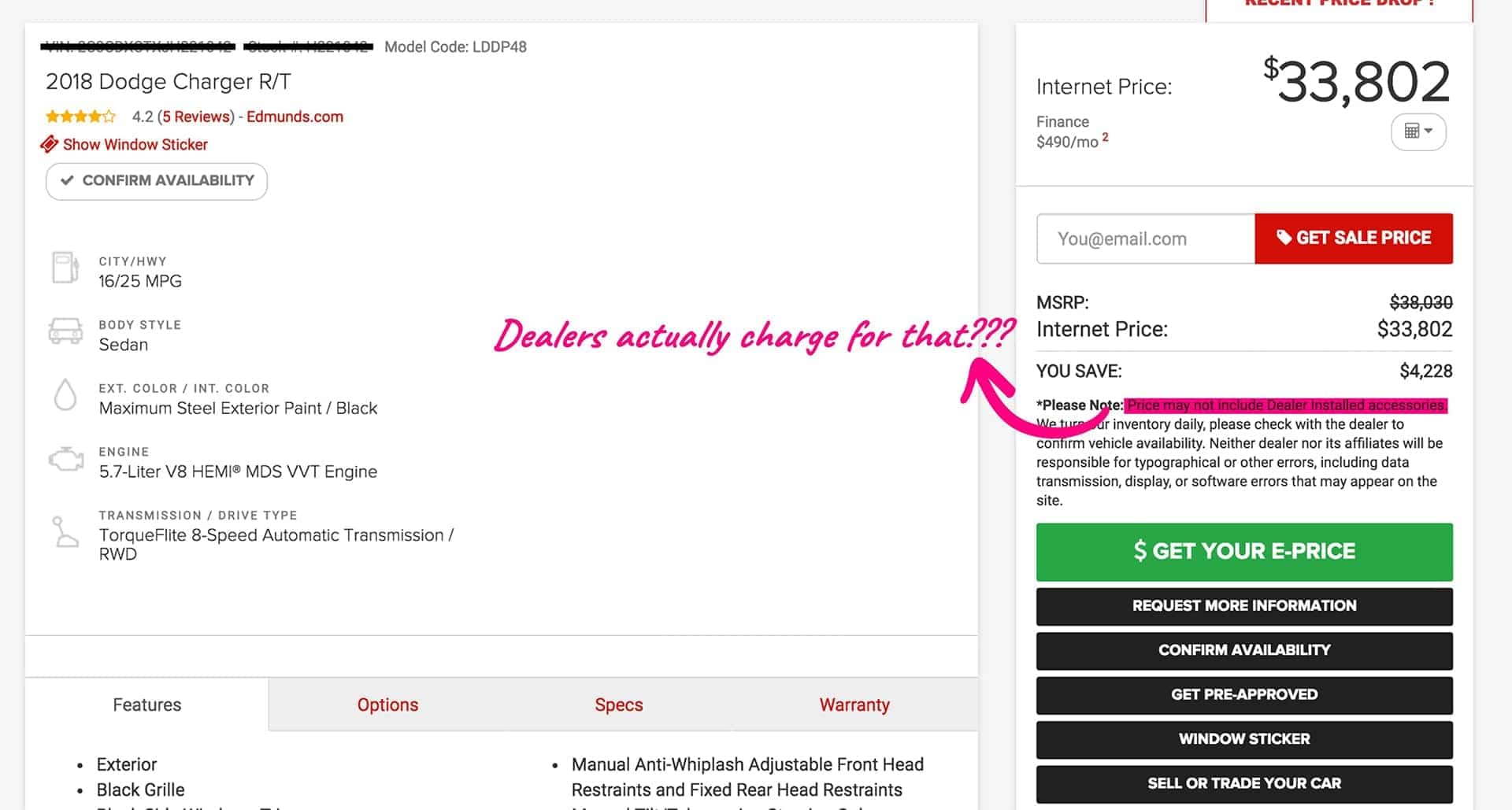 They continue the same thing in their disclosure as well. They separate their administrative fees, which when totaled together equal $998. But wait, they also their internet price may include trade assist or subprime requirements. So, If you are responsible with your credit, you have to pay more? C'mon, that's just crazy! They remain vague once again which means they could add these items back on to the internet price at will to sell their price for a higher amount to make more money on the vehicle.

Want to buy a car the easy way? Click below for straight forward advertising!